Redline Manufacturer

Redlines have been manufactured since 1985 in Cape Town, South Africa by Redline Products (Pty) Ltd. The production process is in accordance with ISO 9001 and incorporates quality assurance procedures at every step in the product's manufacture.
Every breath bag is pressure tested prior to dispatch, and the chemical composition of one in every ten testers is checked for accuracy by a gas chromatograph. There is therefore almost no margin for error within the product's manufacturing process.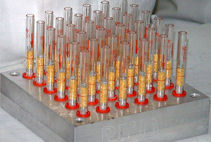 The factory now employs some 800 workers, most of whom are from the local community, in order to address the current demand for the product from Europe. It prides itself on its employee training, quality assurance procedures and product development programs. The working environment is dust-free, and temperature and humidity controlled, ensuring production to the highest possible quality.